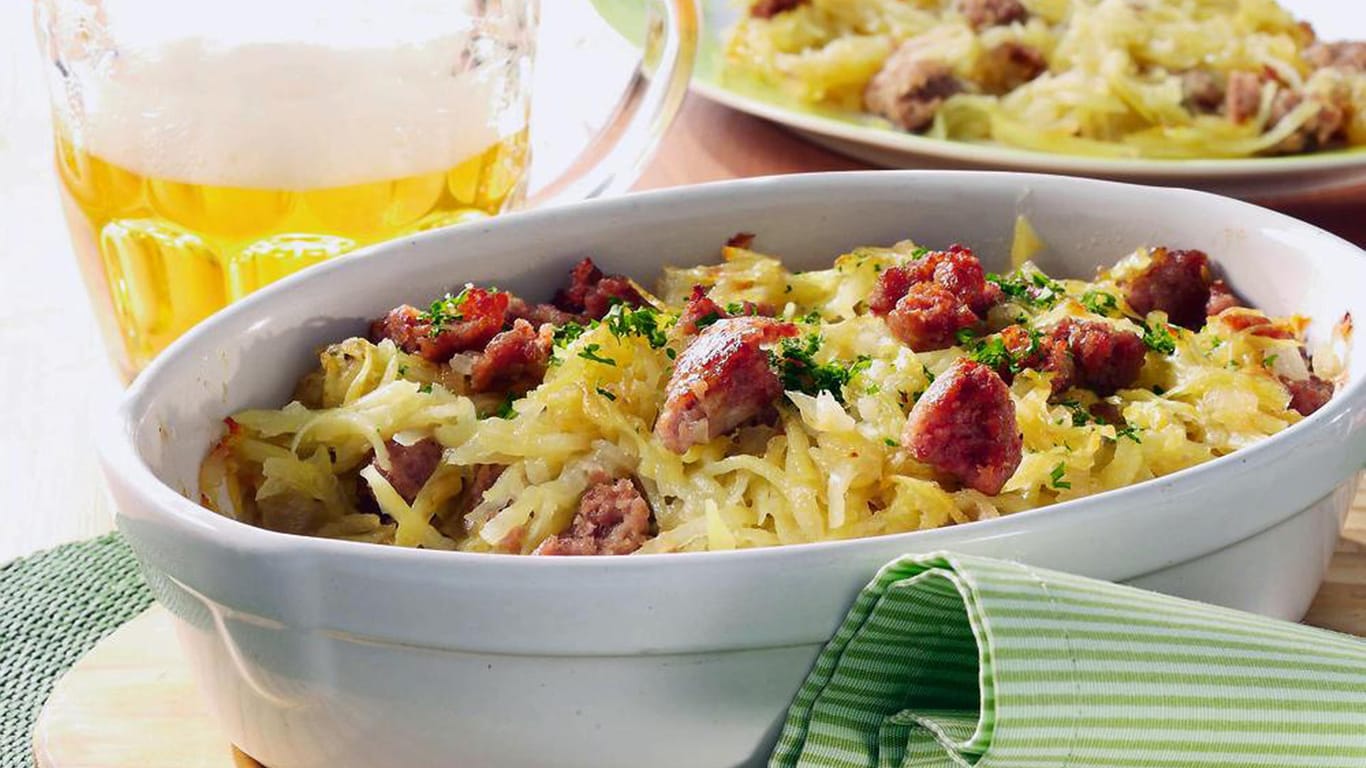 Beer coach pan: You can also use bratwurst meat instead of minced meat. (Source: NGV mbH, Photo: NGV mbH)
If you want food to be on the table quickly, a casserole is just the thing. The Bierkutscher pan only needs 30 minutes in the oven.
These recipes with minced meat are nice and hearty and filling. Whether with potatoes or pasta and rice – these dishes are guaranteed to have something for minced meat fans.
Allow about 25 minutes of preparation time for this recipe.
Ingredients for four servings:
8 potatoes

2 onions

2 tbsp clarified butter

250 g bratwurst meat or minced meat

Salt, pepper, marjoram

1 tsp caraway

3 tbsp fresh chopped parsley
Peel the potatoes and grate them into a bowl. Peel the onions and chop them. Preheat the oven to 220°C (fan oven 200°C).

Heat the clarified butter in a pan and sauté the onions until translucent. Add sausage meat or minced meat and fry well.

Add the potatoes and stir them in. Season the mixture with salt, pepper and marjoram and braise the whole thing for about three minutes.

Grease a baking dish. Put the potato-meat mixture in the baking dish and sprinkle the caraway seeds over it. Bake the beer coach pan in the oven for about 30 minutes. Serve them sprinkled with parsley.

Tomato minced meat pan recipe

Would you rather have minced meat with pasta or rice? Then try this colorful pan with peppers and eggplant, peppered with rosemary and thyme. Couscous also goes well with this. The preparation time is around 40 minutes.

Colorful and healthy: peppers and eggplant are a delicious addition to the minced meat pan. (Source: Manuela Rüther/dpa-bilder)

1 large onion
3 cloves of garlic
1 eggplant
1 each green, yellow and red pepper
2 sprigs each of rosemary and thyme
500g minced meat
Salt, freshly ground pepper
1 pinch of sugar
100 ml white wine
750 g diced tomatoes (can)
2 to 3 tsp tomato paste
1 splash of Tabasco
Olive oil for frying

Peel the onion and garlic cloves and dice them finely. Wash the eggplant and peppers and cut the whole thing into cubes that are not too fine. Wash rosemary and thyme and shake the branches dry.
Heat some olive oil in a large pan and fry the pepper and eggplant cubes in it. Finally, season with salt and pepper and remove the vegetables.
Pour in some olive oil and fry the minced meat all over together with the herb sprigs. Add onion and garlic and fry for a few minutes. Season with salt, pepper and a pinch of sugar.
Deglaze the minced meat with white wine. Add the tomato pieces and tomato paste. Bring everything to the boil and simmer for seven minutes, stirring several times. Season the whole thing again with salt, pepper and Tabasco.

You can serve the minced pan with pasta, rice or couscous. 

Freshly grated Parmesan or Pecorino goes well with this.