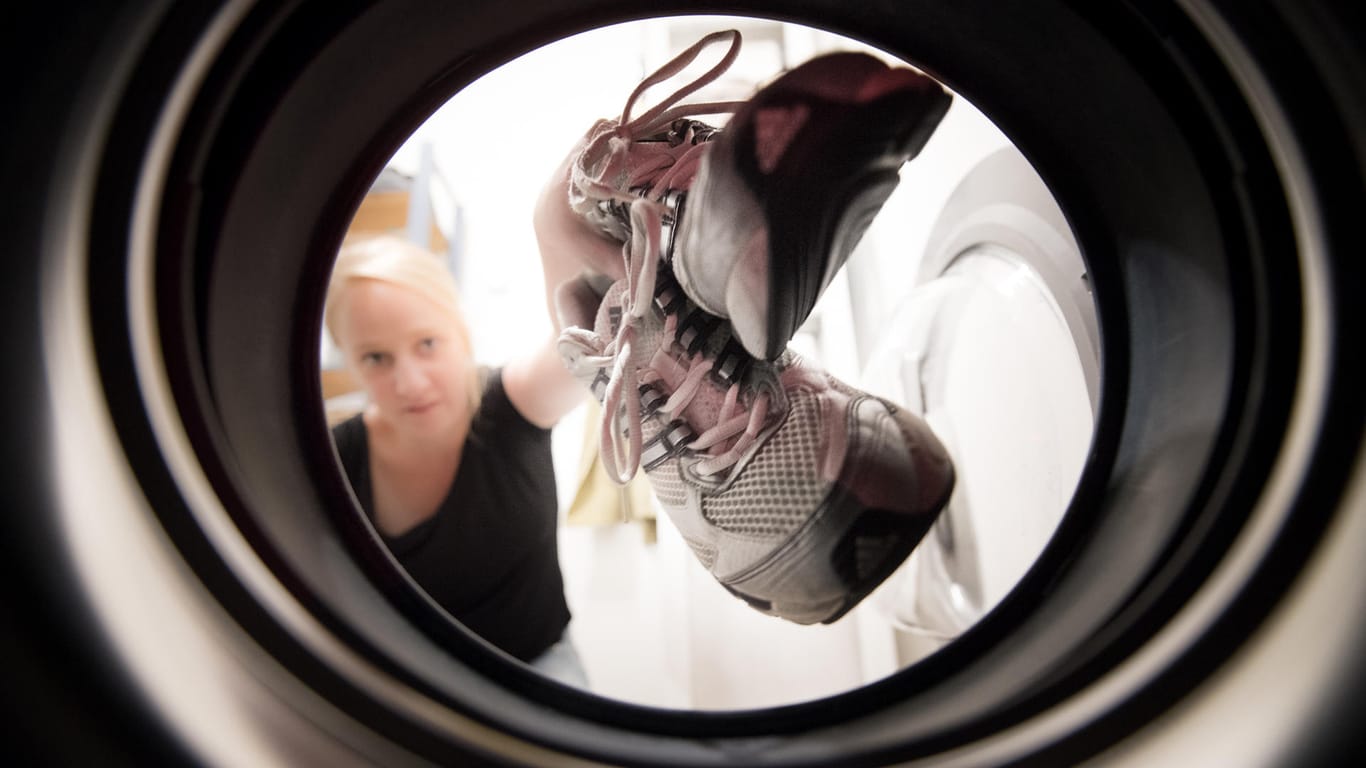 Washing machine: Not all shoes can be cleaned by machine. (Source: Franziska Gabbert/dpa-bilder)
Stubborn dirt on shoes can often only be effectively removed in the washing machine – however, not every model is suitable for machine washing.Dirt on the streets, rain or snow often leave unsightly marks on your shoes. When brushing and cleaning with a damp cloth are no longer enough, many people think about washing their shoes in the washing machine . But there are a few things to consider.
These shoes can go in the washing machine
If you want to wash your shoes, you should first check the material of the shoes. If the shoes are made of synthetic materials, they can generally be put in the washing machine – this usually includes:
sneakers

Canvas

Slippers

Sneakers

Ballerina flats

Linen and fabric shoes
Not every shoe belongs in the machine
You should not put pure leather shoes in the washing machine, even if they are very dirty. When exposed to large amounts of water, the material can become porous and unsightly.
If your shoes are decorated, for example with metal applications or embroidered or glued with rhinestones, the shoes also do not belong in the machine – this could damage the washing machine and the decorations could come off.
If your shoes are not suitable for machine washing, you can carefully clean them by hand using liquid detergent and a brush. Then let them dry at room temperature and preferably stuff them with absorbent paper that does not stain.
Road salt on the roads leaves ugly white edges on shoes. You can get rid of this with shoe shampoo in diluted form. Shoe shampoos are purchased tailored to the material. They are available for synthetic materials, but also for smooth and suede leather. For particularly sensitive leather models, you should use special snow edge removers for snow edges.
At what temperature can you wash shoes?
You should wash sneakers and other shoes that are machine washable at the lowest possible temperatures – no more than 30 degrees – and on a delicates or easy-care program. Some machines also have sneaker programs. Use only a small amount of detergent .
If synthetic shoes have leather inserts, they should also be washed at a maximum of 30 degrees and on a gentle cycle.
You should only choose a washing temperature of 40 degrees in exceptional cases – for example if the shoes are heavily soiled – and if the shoes are mostly made of textile fibers. At high temperatures, the glue on the soles can come loose and the cushioning of sneakers can become so saturated with water that it is impaired. Especially with white shoes it can happen that the glue turns ugly and yellowish.
Instructions: Machine wash shoes properly
Before you put your shoes in the washing machine, you should remove as much dirt as possible. For example, tap the shoes and, if necessary, use a shoe brush to remove small stones from the sole of the shoe.

Also remove loose parts such as insoles and shoelaces.

It is best to wash your shoes in an old pillowcase or jute bag. This protects your shoes and machine.

You should not wash clothes in the same wash cycle to avoid damaging them. Older, less sensitive towels, on the other hand, are ideal for putting in the washing machine with shoes – they prevent the hard shoes from damaging the drum during the wash cycle.

Wash the shoes at a maximum of 30 degrees. Do not use fabric softener and only use a small amount of detergent – or even better, mild detergent. Important: do not spin.

After washing, stuff the shoes with newspaper and let them dry so that they keep their shape and don't bulge. Ideally, place the shoes in a sunny, airy place to dry – not directly on a heater. The shoes should dry as quickly as possible to prevent mold from forming.
Closed shoes stink quickly. Foot deodorants, but also normal body deodorants, help when you're on the move. They are also available in smaller versions for travel or to take with you in everyday life. Foot powder, which absorbs sweat, is even better against unpleasant odors. Since it is not liquid, it can also be transported in hand luggage on planes without any restrictions. In addition to foot deodorants, shoe deodorants are also advisable, as they especially remove bad smells from sneakers.
If the shoes are already smelly, an alternative to washing is small bags with scented contents that can be placed inside the shoes when they are put away in the shoe cupboard. Tea bags – a frequently mentioned tip – are only suitable to a limited extent. They can rub off on light-colored shoes.If you want to protect your shoes from stubborn muffs right from the start, it's best to change your shoes every day and, in the summer, take a break for at least two days after each wear. Replaceable terry cloth soles are also a tip. They absorb sweat.