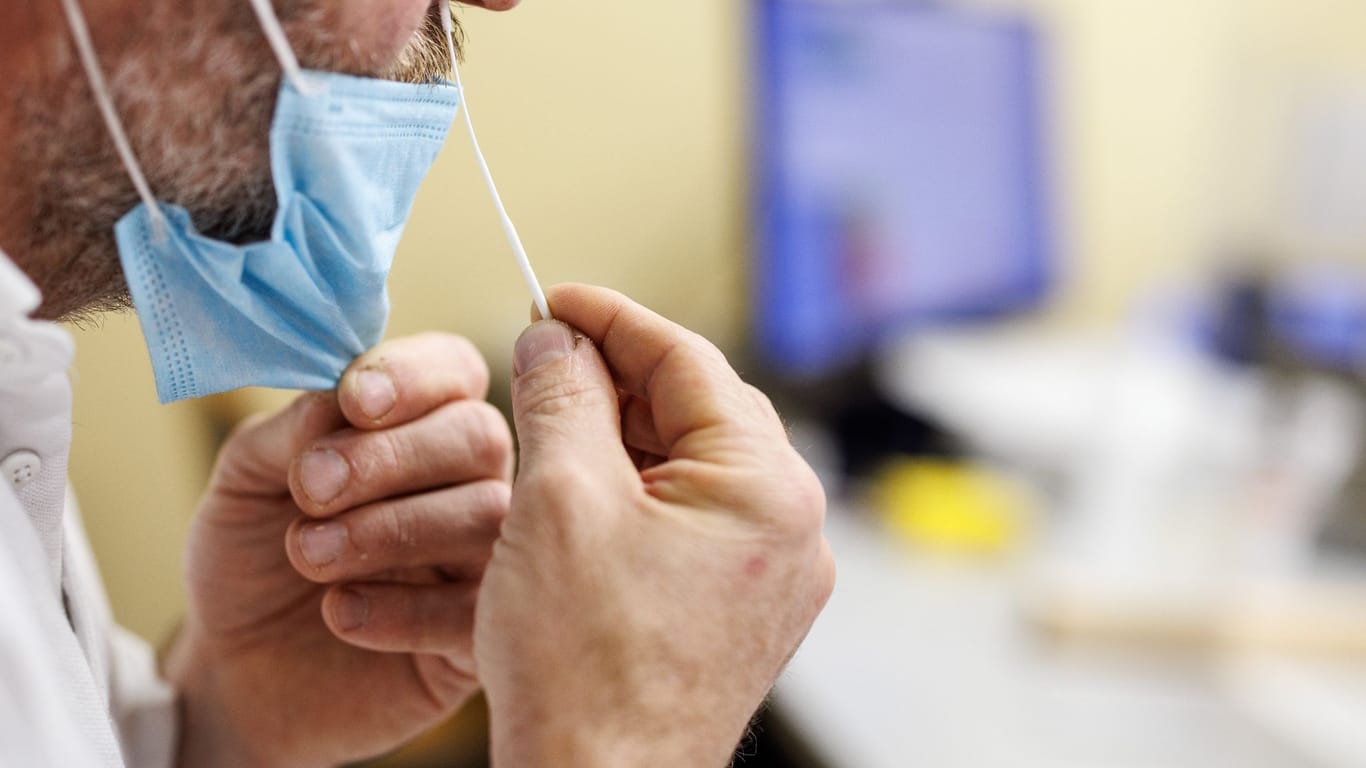 Many Germans are not worried about a possible corona infection this fall and winter. (Source: Matthias Balk/dpa/dpa-bilder)
The corona numbers are increasing, but there will be no protective regulations. How many people are concerned about this – and how much interest is there in the booster vaccination?
Before the first Corona autumn without mandatory protection requirements, assessments of one's own health risks differ, according to a survey .
50 percent are not at all worried about a possible corona infection this autumn and winter, as the representative survey by the opinion research institute YouGov on behalf of the German Press Agency showed. On the other hand, 46 percent of those surveyed tend to be worried, 36 percent said they were "somewhat" worried, and 10 percent even said "yes, very much."
Do we need prescribed protective measures?
According to the survey, there is strong support for the fact that government-imposed protective measures will not be necessary this fall and winter. 34 percent completely agreed with this, while 32 percent were somewhat in agreement. However, 6 percent of those surveyed did not agree at all, and 16 percent did not agree at all.
At the same time, voluntary protective measures in sensitive facilities are very popular. Three quarters of those surveyed support the fact that doctors' practices, clinics and nursing homes should decide for themselves whether visitors should wear masks as a precaution: 42 percent completely agreed, 34 percent somewhat agreed. 18 percent tended to be negative.
The World Health Organization ( WHO) lifted the "public health emergency of international concern" in May. The WHO recently warned of rising corona numbers in the northern hemisphere.
Mouth and nose protection – yes or no?
After the recent increase in the number of infections, further increases in infections are expected in the colder season. The Influenza Working Group , which also publishes the Covid-19 numbers, reported 6,780 confirmed corona infections for the calendar week from September 4th to 10th – three times the numbers from August. In addition , the heavily mutated Corona variant BA.2.86 ("Pirola") has now arrived in Germany , which is causing experts concern.
This time there are no requirements for masks, tests and quarantine as in autumn 2022 – but there are recommendations.
Federal Health Minister Karl Lauterbach (SPD) and the Robert Koch Institute (RKI) recommend booster vaccinations for people over 60 and with previous illnesses, as well as voluntary wearing of masks in certain situations.
According to the survey, there is currently a cautious tendency when it comes to precautionary protective measures. 25 percent said that they would definitely or probably not wear a mask indoors with many people – 47 percent said that they would definitely or probably not want to do so. Another 23 percent said "maybe".
According to their own statements, 28 percent will definitely or probably have a vaccination or booster vaccination, perhaps 15 percent said so. On the other hand, 36 percent of those surveyed definitely do not want to be vaccinated and probably not another 15 percent.